Batch calculate point-to-point mileages with Caliper Maptitude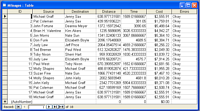 Do you have a large number of point-to-point route distances which you need to calculate in Caliper Maptitude?
If so, MPMileage will solve your problems. MPMileage calculates mileages for point-to-point routes specified in a database. MPMileage can calculate distances, travel times, and estimated costs, with all results written to the input database.
MPMileage supports all versions of Maptitude from Maptitude 2015 Build 2835 onwards. Supported databases include Microsoft Access (2007 & later), Microsoft Excel (2007 & later), SQL Server, ODBC connections, and Maptitude data views.
Benefits include:
Batch calculate thousands or even a million mileages.
Ability to calculate distances, travel times, and estimated costs at the same time.
Uses pre-located pushpins, street addresses, or geographic coordinates for maximum flexibility.
No need to convert databases: Supports most databases through ODBC.
No need to use a large database: Supports Microsoft Excel, Microsoft Access, SQL Server,ODBC connections, and Maptitude data views.
Ability to select specific database rows for calculation.
Ability to save/restore settings in a 'jobs' file.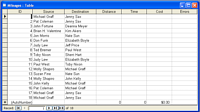 Additional features, include:
Support for all of Maptitude's routing options.
Capability to calculate straight line distances, as well as route distances.
Support for various distance and time units.
Ability to adjust or override road speeds.
Cost estimations based on route distance or road type.
Ability to share road parameters with MileCharter for Maptitude.
Walk-through tutorial.
Supports all Maptitude country packs that contain street data.
Windows 7, 8, and 10 are all supported.
Click here to download MPMileage. This is a free trial version that will last for 14 days, and must be registered if you wish to use it beyond this period. MPMileage licenses can be purchased online for US$75 each. Other purchase options and volume discounts are also available.
Please use our contact form for MPMileage support.
We also sell a second mileage computation tool called MileCharter. This computes mileage tables between groups of locations. We have a page comparing MPMileage and MileCharter.
Ultra One2OneMileage
The Ultra Mileage version of MPMileage is One2OneMileage. This is capable of very fast (~1000 routes/second) processing and does not require a host application, although it can read named points from a Maptitude point layer. Road data is derived from OpenStreetMaps, meaning it can be used anywhere in the world.