MileCharter for Caliper® Maptitude®
Calculate the distances between lots of locations in minutes instead of hours!
Find route costs for hundreds of customers!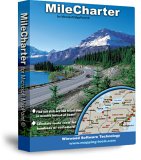 If you are already using Caliper® Maptitude® to calculate route distances, you know how much trouble it is to calculate various distances and travel times to reach your customers in time. Use MileCharter to take the pain out of these calculations. Process hundreds of source and destination locations accurately in minutes with a few mouse clicks.
MileCharter is an add-in for Caliper Maptitude (Microsoft MapPoint version also available) that calculates mileage tables and charts and puts the results directly into a spreadsheet or text file. MileCharter will also compute travel times and estimate costs. It supports all of Maptitude's routing options, as well as all Maptitude country packs that contain street databases.
Benefits include:
Ability to calculate route distances, travel times, and estimated costs all at the same time.
Easily calculate atlas-style tables between all locations within one group.
Calculate distances and costs for each of your depots to serve each of your customers.

Calculate tables with different source and destination groups.

Supports sophisticated and flexible route cost calculations using rate tables.

Different per-mile rates can be applied to different distance ranges.

Different per-mile rates can also be applied for different road types.

Find the shortest routes, fastest routes, or straight line distances.
Find the 'closest only' destinations.

Efficiently match your closest sales offices to each of your customers.

Triangular and square mileage charts to match your required style.
Use conditional logic to restrict route calculations to only those that are required.
Ability to output accurate location coordinates at the same time as the mileage table.
Ability to copy any of the input data fields to the output tables.
Travel times can include or exclude automatic rest stops and overnight stops.
Supports Excel 2007's extra large spreadsheets.
Supports industry standard comma (CSV) and tab separated text files.
Supports all of Maptitude's routing options and parameters.
MileCharter also has a simple, easy-to-use interface allowing easy selection of start and finish locations, as well as formatting and other options. To see how MileCharter works, see the Guided Tour on the official MileCharter website. If you are new to Caliper Maptitude, then try the Walkthrough for Caliper Maptitude Beginners page. This gives step-by-step instructions for starting Caliper Maptitude, adding locations, and then running MileCharter.
Requirements: You must have Caliper Maptitude (2014 Build 2835 or later) installed, and the Microsoft .NET Framework v4.0. The .NET Framework is available as a standard Windows Update, and as a free download from the Microsoft website. The Excel export option also requires Microsoft Excel (2003 or later) to be installed. MileCharter runs with Windows XP, Windows Vista, Windows 7, and Windows 8.
MileCharter Professional
MileCharter for Maptitude has two levels of licensing: Basic and Professional. The Professional license adds a number of features including the ability to find and sort only the closest destinations, to pause/restart processing, and to apply conditional logic. The MileCharter Versions page summarizes the differences between the two licenses.
Free Trial
Click here for a free 14 day trial of MileCharter. The trial version must be registered if you wish to use it beyond the 14 day trial period. MPMileCharter licenses can be purchased from our Secure Web Form for US$75 each (Basic License), or US$120 each (Professional license). Other purchase options (including CD-ROM) are also available.
Please use our contact form for MileCharter support. The MileCharter documentation has also been published online at the MileCharter.com website.
We also sell a second mileage computation tool called MPMileage. This computes point-to-point routes listed in a database. We have a page comparing MPMileage and MileCharter.
Ultra MileCharter
MileCharter is also available for the Ultra Mileage system. This is capable of very fast (~1000 routes/second) processing and does not require a host application. Road data is derived from OpenStreetMaps, meaning it can be used anywhere in the world.