The desktop version of MapPoint is the traditional flagship of the MapPoint brand. It is also the product which we specialize in, and this website is devoted to. MapPoint is targeted at business applications, but it is also very flexible. It includes the routing capabilities of Streets & Trips, but also includes data plotting capabilities, demographic data, database interfaces, and a programming interface.
MapPoint is only available for Microsoft Windows running on a PC or laptop. It will not run on Windows RT or a Windows Phone, but it will run on the Intel x86/x64 version of Windows 8. The latest version is MapPoint 2013, and we have a page describing the new features in MapPoint 2013.
Different editions are available for North America and Europe, and include route, gazetteer, or demographic information for their respective regions. Map coverage outside of these regions is extremely basic, and is typically limited to coastlines and the locations of major cities.
In July 2014,  Microsoft announced that MapPoint 2013 will be the last version. It was withdrawn from sale on 31st December 2014, and support ended on 2015. There continue to be many users of MapPoint and we continue to sell our tools and add-ins for Microsoft MapPoint.
This site specializes in tools and add-ins for the desktop version of Microsoft MapPoint and Caliper Maptitude. These pages describe how to use the various features in these products. Here is a quick summary of MapPoint's capabilities:
Route Finding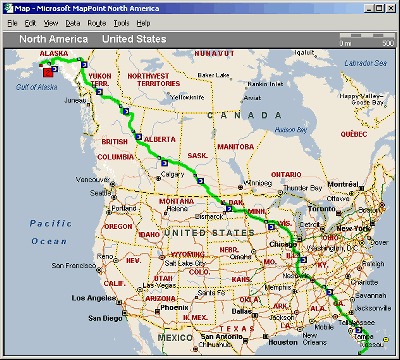 Microsoft MapPoint comes with a comprehensive road database and routing capabilities. These could be used in a similar way as the Streets & Trips product, but they can also be accessed through the programming interface. This allows more complex functions to be implemented. For example, you could print a map showing the personalized route for each of your customers. Our MPMileCharter and MPMileage products both use Microsoft MapPoint's routing abilities to find route distances and travel times between many locations. Both can also calculate estimated costs.
Microsoft MapPoint can also be used to track an attached GPS (Global Positioning System) unit that meets the NMEA 2.0 standard. This device can also be used for interactive real-time routing.
Geographic Data Analysis and Marketing
Geographic data can be plotted in Microsoft MapPoint in a variety of forms, including shaded areas and pie charts. Microsoft MapPoint is supplied with a range of demographic data, and you can import data from your own Microsoft Excel® spreadsheets, Access databases, flat files, and ODBC connections. Both of these example maps combine Microsoft MapPoint demographic data with external data.
This map plots aircraft delays for a series of airports. Pie charts illustrate both the percentage of delayed flights and the absolute number of flights. In an attempt to understand the causes for the delays, the data has been plotted over the climate data supplied with Microsoft MapPoint.
Geographic Annotation
You can also add your own lines, shapes, and annotation to Microsoft MapPoint maps. For example, it has been successfully used to draw networks, or "freeform" territories on real world maps.
This technique is used by our MPSuperShape tool to manipulate shapes, as well as import/export them to other data formats. In the example to the right, two drivetime polygons have been drawn around two sales offices using MapPoint. These mark areas within a specific driving time of each office. MPSuperShape can combine them into one, to give an effective market territory of the two offices. MPSuperShape can also find shape intersections, calculate pushpin boundary shapes, and import/export shapes in a variety of file formats.
MapPoint Versions
MapPoint is available in two geographic editions: North America, and Europe. Both are available in English, but the European edition is also available in the French, German, Italian, and Spanish languages.
MapPoint Books
Although only about a third of Chandu Thota's Programming MapPoint in .NET (Programming) book covers the desktop version of MapPoint, it is both the best and most recent MapPoint programming book. This book is strongly recommended if you are developing in the .NET environment. The remainder of the book covers the defunct MapPoint Web Service and a very early version of Virtual Earth.
The older MapPoint for Dummies book (Buy from the US, Buy from the UK) may also be useful. This provides an excellent and comprehensive walk-through of MapPoint 2002's capabilities. The menus and toolbars have been redesigned since 2002, but all of the original operations are still available. Unlike Chandu Thota's book, this book is really about using MapPoint as an application. It only has an introduction to using the programming interface.