Welcome to Mapping-Tools.com, your one-stop location for tools, applications, and add-ins for various GIS (geospatial information systems). We currently specialize in tools for Microsoft® MapPoint® and Caliper®'s Maptitude® GIS; as well as the Ultra Mileage system for batch route calculations with OpenStreetMaps.
MileCharter for Mobile is our first geospatial product for the Android mobile platform. As a mobile version of our popular MileCharter product, MileCharter for Mobile allows you to find the closest customers to your location using the current driving conditions. It can also find the best route through all of your local customers.
MileCharter for Mobile has now entered public beta, and you are invited to install it, and give us your feedback.
Ultra Mileage is a super-fast batch mileage computation tool. With a modern PC this is capable of calculating ~1000 routes per second for many countries of the world. Road data is imported from OpenStreetMaps, meaning it will work with any country or region in the world.
Ultra Mileage includes two route computation tools. Ultra MileCharter is a port of our popular MileCharter range of tools. It calculates mileage charts and tables between two lists of points, and can read data from text files, Excel, or Caliper Maptitude MAP files.
Ultra One2OneMileage is a port of our MPMileage tools. This calculates an arbitrary point-to-point list of routes in a database. Distances, travel times, and/or estimated costs are written back to the same database.
See the Ultra Mileage website for further information including a free 14 day trial and purchase options.

MPMileage for Maptitude v1.8 has been released! The point-to-point routes are read from a database table and the results are written back to the same table. The Maptitude version works as an add-in and supports most of the MapPoint version's capabilities. MPMileage for Maptitude also adds database support for Maptitude data views, and the Maptitude's sophisticated road speeds. v1.1 added the ability to defining costs on a road type basis, and to adjust Maptitude's road speeds with set percentages (e.g. "increase all motorway speeds by +5%").
See the MPMileage pages for further information, including a free 14 day trial.
The Buy MPMileage page has the full range of purchase options, including fast electronic delivery for only US$85. Discounts are available for existing users of MPMileage for MapPoint.

MPCluster for Maptitude v2 has been released! Use MPCluster to find clusters (natural groups) in point and area layers. The results can be drawn as new Maptitude layers, written to Microsoft Excel, or used to color your input data. The Maptitude version also adds Hierarchical Clustering in addition to the original MapPoint K-Means. The latest version of MPCluster for Maptitude adds the ability to use external distance tables (eg. driving distances or custom costs) when calculating the size and spacing of clusters.
Version 2 has a number of significant improvements, including proper concave support for hierarchical cluster shapes. The addition of a Professional License adds the ability to use pre-defined fixed cluster centers (e.g. existing depots when trying to find the optimum locations for new depots). The Professional license also adds the ability to calculate overlay data fields for each cluster, summing and/or counting data fields from a different layer.
Existing users of MPCluster for Maptitude v1.* can upgrade to MPCluster v2 Basic license for free.
See the MPCluster pages for further information, including a free 14 day trial.
The Buy MPCluster page has the full range of purchase options, including fast electronic delivery for only US$100 (Basic) or US$140 (Professional).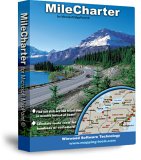 MileCharter for Maptitude v1.9 has been released! If you are already using Caliper Maptitude®, you know how much trouble it is to calculate multiple distances and travel times. Use MileCharter to take the pain out of these calculations. Process hundreds of source and destination locations accurately in minutes with only a few mouse clicks.
MileCharter is an add-in for Maptitude that calculates mileage tables and charts, and puts the results directly into a Microsoft Excel® spreadsheet. MileCharter will also compute travel times and estimate costs.
MileCharter for Maptitude is also recommended for users of our popular MileCharter for MapPoint, who are looking for a replacement for the Microsoft MapPoint application.
The Buy MileCharter for Maptitude page has the full range of purchase options, including fast electronic delivery for only US$75 (Basic) or US$120 (Professional) per license.
MileCharter for MapPoint continues to be available for download and purchase.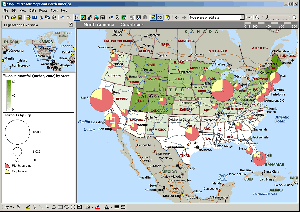 Mapping-Tools.com sells a selection of quality tools and add-ins for the Caliper Maptitude® GIS system, Ultra Mileage (OpenStreetMaps), and Microsoft's Mappoint® office mapping system. Most of these tools can be used free-of-charge for a trial period before purchase.
Feel free to browse through our product list, or browse our Maptitude and MapPoint articles.
Mapping-Tools.com is owned and operated by Winwaed Software Technology LLC, who are also available for custom Caliper Maptitude and Microsoft MapPoint projects and consulting.